BIG ANNOUNCEMENT!!!!!
.
.
Cool Finds Friday shall henceforth be disbanded and in it's place shall be FRIDAY FINDS!
Calm down people, I know you are excited but this isn't anything to lose your head over. It will be ok, I promise!
Friday Finds is just much simpler in my opinion (or as the cool kids would say, "IMO").
Oh and if anyone ever has something they found, or one of their own posts they would like to see featured in one of my sporadic FRIDAY FINDS posts, feel free to email me at julie at pleasepasstheketchup dot ca. I'm always open to other suggestions as well. Got a recipe you would like me to make? Share it! Have an opinion on one of mine? Share it! Do you think that chickens should be Canada's new animal because of their astounding contribution to our diets? Share it! Anything you want really. I don't as of yet get much mail, so it's pretty likely that I will respond.
So I know you are just dying to ask: "Will Friday Finds be any different than Cool Finds Friday?"
This is going to come as a big shock to you all, but the answer is no. They will be pretty much identical. Shocker.
1.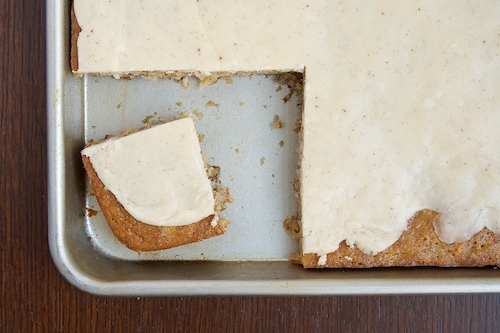 I often have a slew of excess bananas sitting in my freezer (although I've temporarily run out……so I bought a giant batch at the grocery store so that I'd have leftovers. I'm weird). I love banana bread but sometimes you just need an alternative. These Banana Bars with Browned Butter Icing would be a great alternative. Plus they have browned butter, which as every food bloggers knows, is the new cool thing to do. Because it's delicious.
2.
Did you know that you can whip feta? Neither did I, but you can. Doesn't it look incredible?
3.
Apparently homemade tortillas are pretty easy to make. I soooo want to try this with whole wheat flour!
4.
I'm one of those weirdos that doesn't like this whole quinoa movement. It tastes weird to me. And it seems to stick everywhere. Maybe I'm making it wrong. Maybe I just need to make it sweet like this banana bread quinoa (one more reason to buy more bananas!). I think cocoa would be fantastic with this too!
5.
And finally, my extra lean ground beef or ground turkey burgers just never seemed to turn out well…..they were always dry and often crumbled apart. So what's the secret to a good lean burger? Zucchini!